---
Thaydah Athbah maintains her unbeaten record winning the Hh Sheikha Fatima Bint Mubarak Cup

Thaydah Athbah and Tadhg O'Shea © Debbie Burt - Equine Creative Media
WATCH THE RACE
Thaydah Athbah ridden by ten times UAE champion jockey Tadhg O'Shea maintained her unbeaten record when winning the £20,000 Group 3PA HH Sheikha Fatima Bint Mubarak Cup at Haydock Park on September 9 over a mile. The Athbah Racing homebred came home four and a quarter lengths ahead of Upstart Crow and Miss Teagan Padgett, with Mayfair and Marco Ghiani a further four lengths back in third.
Thaydah Athbah was the pick of three entries from current leading ARO owner, Athbah Racing and is trained by two-time ARO leading trainer and former five-time ARO leading jockey, Phil Collington. Collington has won all four of the previous running's of this race, three of which were for Athbah Racing, and three were ridden by Tadhg O'Shea.
O'Shea commented, "She' a very nice filly, Phil has always held her in high regard. This was her first time in Group company, but it was lovely, just a hands and heels ride. She's going to have stiffer assignments to come, I think the plan is to go to Longchamp, and I think she's well up to that. She's a huge filly and I think she'll only get better with age.
"At Windsor I was left in front way too far out as there was nothing there to really lead her, she was still a big baby, and more so today, I was there probably two, two and a half furlongs to early, I wanted to get her to stretch out today, but she shut down her engines at the furlong pole and pricked her ears, so she's probably value for more than what she won by. I looked at the screen and she was that far in front. It was like a gallop for her so she's going to be going to Longchamp bursting with confidence."
Collington commented, "I'm very pleased with that performance. Watching her there I'd say she could probably do with a bit easier ground, though she won on quick at Windsor. The further she goes the better I think, she'll have an entry in the Fillies' Group 1 on Arc weekend and beyond that, she could be an Al Mneefah type of filly.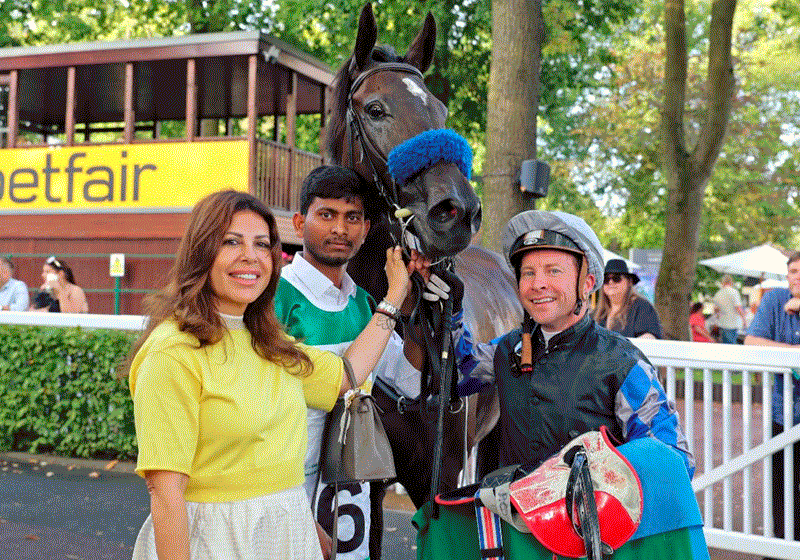 Lara Sawaya with Thaydah Athbah and Tadhg O'Shea © Debbie Burt - Equine Creative Media
Lara Sawaya, Executive Director of the HH Sheikh Mansoor Bin Zayed Al Nahyan Racing Festival commented, "We have really enjoyed the welcome that everyone at Haydock Park has given us for the HH Sheikha Fatima bint Mubarak Cup and we congratulate Tadhg O'Shea, Athbah Racing and Phil Collington for winning today with Thaydah Athbah."
"The Festival sponsors 153 races globally this year, as well as the World Arabian Horse Racing Forum and the Sheikh Zayed Bin Sultan Al Nahyan Jewel Crown which is held in Abu Dhabi in December."
Genny Haynes, ARO Chief Executive Officer said, "For over ten years the HH Sheikh Mansoor bin Zayed Al Nahyan Racing Festival has generously supported our racing for which ARO is extremely grateful. We are delighted for Athbah, Tadhg, Phil and his team for producing Thaydah Athbah in such good form to maintain their great record in this race, and we hope that she will continue to progress in Group company and uphold the form of UK Arabian racing globally.
"We are also grateful for the support from Haydock Park racecourse and Brendan Waterworth from Racing Welfare who presented the Best Turned Out Award to Oliver Harcourt for Mayfair."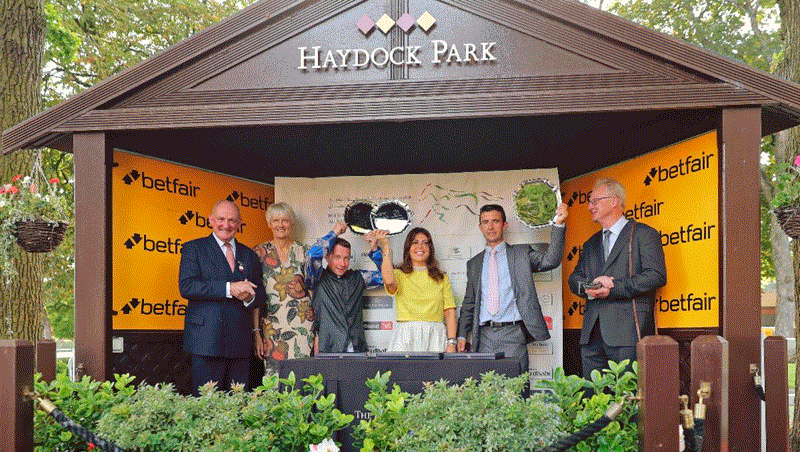 The HH Sheikh Mansoor Bin Zayed Al Nahyan Horse Racing Festival is sustained by the Abu Dhabi Department of Culture & Tourism coordinated by Abu Dhabi Sports Council, with National Feed as strategic partner, The National Library & Archives as the official partner , MUBADALA as the official partner, Emirates Airline as the official carrier, Etisalat as official sponsor & sponsored by Al Massood Automobiles Nissan, Areej Alameerat, Omeir Travels Agency, YAS Sports TV, Viola Communications, the UAE's General Women's Union , Emirates International Endurance Village, Emirates Arabian Horse Society & Abu Dhabi Equestrian Club.
Source: Arabian Racing Organisation