---
Saudi Cup winners back in action on King Faisal Cup Day
Commissioner King and Asfan Al Khalediah among stars on card featuring Ta'if's two biggest races for Purebred Arabians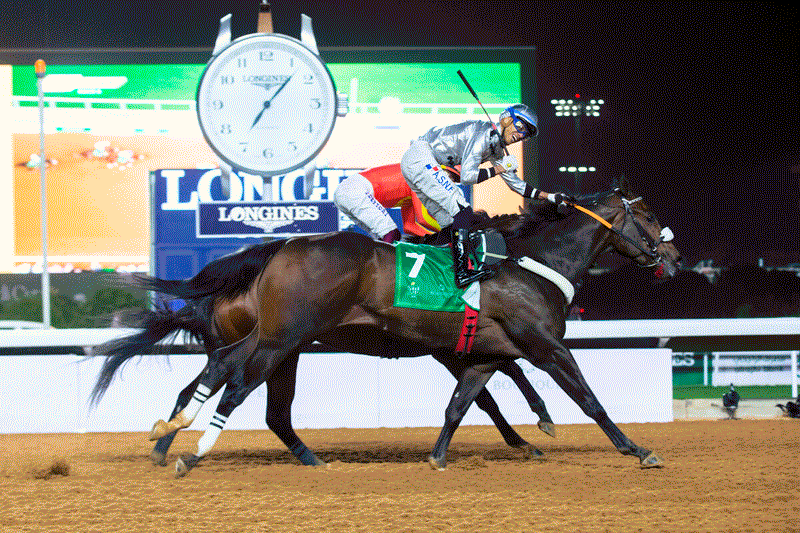 Commissioner King wins the Saudi Derby (Group 3) - 25th Feb 23 -
Credit: Jockey Club of Saudi Arabia // Erika Rasmussen
1 September 2023 – Commissioner King, last year's G3 Saudi Derby winner, will return to action on Saturday September 2 on a high-class day of racing from King Khalid Racecourse, Ta'if, which includes two SAR1m Listed contests, the Prince Abdullah Al Faisal Cup and the King Faisal Cup for Purebred Arabians.
Commissioner King, the FMQ Stables-owned gelding, won three of his four starts last season, culminating in the USD$1.5m Saudi Derby, and lines up under regular rider, Luis Morales in the 1600m SAR500,000 Ta'if Cup Presented by Boutique Group, one of four valuable Ta'if Cup races on the day.
Speaking about Commissioner King's win in the Saudi Derby, owner Faisal Mohammed Al Alqahtani said: "It was a historic night. A night that I'll never forget."
He then went on to explain the preparation Commissioner King has had ahead of his seasonal return and plans for the season ahead.
"We have a special programme for him. He was off for six months, and he has been training gradually since the beginning of the Ta'if season, but to get fully fit he has to race.
"Most horses start their season in allowance races and then go to the Cups, but these are regular horses. He's way above that.
"Saturday's race is a Cup that of course we want to win, but it's not the target. We're taking in this race to get him fit before Riyadh. Then we have some Cup races planned for him before he goes to The Saudi Cup.
"If you go back to Commissioner King's debut in Ta'if, he ran a fabulous race, so I think he loves the track."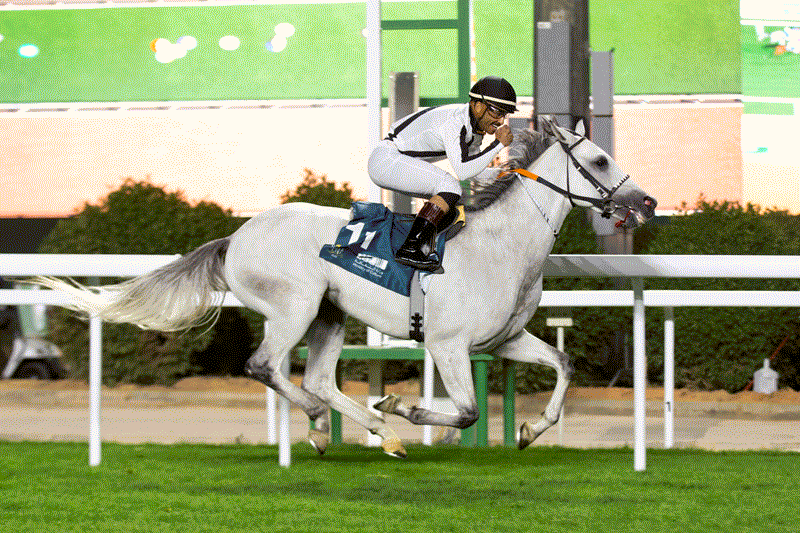 Asfan Al Khalediah wins the G2 Al Mneefah Cup on Saudi Cup - 24th Feb 23
Credit: Jockey Club of Saudi Arabia // Erika Rasmussen
Another of last season's Saudi Cup winners, Asfan Al Khalediah, who won the G2 Al Mneefah Cup on Saudi Cup weekend and was also the winner of last season's King Faisal Cup, recently returned this season with a win and bids to preserve his perfect eight-from-eight career record in the Listed Prince Abdullah Alfaisal Cup over 2000m.
The King Faisal Cup, the other Listed race on the card, offers Athbah Stables the chance to shine with Foo De Pine, a recent transfer to UK-based trainer, Phil Collington from the yard's Saudi stables run by Argentine, Lucas Gaitan.
A victory for Foo De Pine on Saturday would give leading Arabian trainer, Collington his first victory in Saudi Arabia.
Philip Collington, said: "I've known Lucas since he started training for Athbah and we've had a good relationship with horses passing from UK to Saudi and vice versa. With his owner Prince Abdulaziz bin Ahmed being from Saudi Arabia, he's obviously keen to have runners in all the big cup races.
"Foo De Pine came to me as a two-year-old from the owner's stud in France. He was broken-in in the UK last year and then won a race in Belgium this July before he came out to Saudi Arabia. He won over 1200m last time out and has a lot of speed. At the moment 1600m would probably be far enough for him.
"We've had winners in eight countries now, so to win in Saudi Arabia and Ta'if would be great. I actually brought a horse out for the King Faisal Cup last season, but unfortunately he didn't make the race.
"In the last few years, since the Al Mneefah has been added, the programme for Arabian horses in Saudi has got so big. The Obaiya and the Al Mneefah are both very important races."
Saturday's card also features the 2000m SAR700,000 Okaz Cup, where multiple G1-winning US trainer Jimmy Jerkens will be aiming to record his biggest win since moving to train in Saudi Arabia this summer. Jerkens runs Media Storm, a son of Frankel that was formerly trained in France by Andre Fabre.
Other valuable contests on the card include two two-year-old cup races over 1400m, the Ta'if Cup and Ta'if Cup Presented by Sports Boulevard, both worth SAR400,000, as well as the SAR500,000 Ta'if Cup presented by Altanfeethi, which is for three-year-olds and run over 1600m.
Source: Jockey Club of Saudi Arabia