Layla Sophia's Iloucio wins Al Gharafa Cup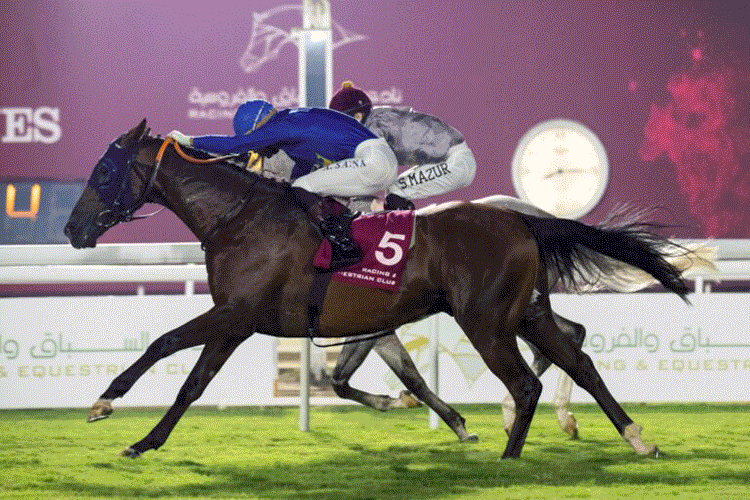 Iloucio ridden by Alberto Sanna. Photo: Juhaim/QREC
The Qatar Racing and Equestrian Club (QREC) organised the eigth race meeting in the 2021-22 season at the Al Rayyan Racecourse turf track on Thursday, 4 November. The feature and eighth Al Gharafa Cup race rounded off an entertaining day's racing and was won in stunning style by the Layla Sophia Kalach-owned and Wasim Al Sahn-trained Iloucio (FR) (Josco Du Cayrou x Louna Du Loup). It was a remarkable day for Alberto Sanna as it was capped off with his 3rd success in the evening and 6th win in the week.
The feature race was for 3YO Purebred Arabians. The 1500m race had a field of 11 runners. Iloucio went directly from barrier 6 to track the leaders. The hot favourite, Al Shaqab Racing's Alrugrog (FR) (Mister Ginoux x Ishra) was the early leaders and Mohammed Bin Hamad Khalifa Al Attiyah's Karaamah (FR) (Al Mamun Monlau x Al Anqa)) was immediately behind him.
Things remained unchanged until the horses entered the home straight. Just before the 200m pole, Iloucio started to make a strong move forward, joined Alrugrog in the lead in the final 100m and went past him in the last strides to score by quarter of a length.
The Eric Lemartinel-trained and Szczepan Mazur-ridden, Alrugrog finished runner-up. The final metres saw a move forward by Khalifa Bin Sheail Al Kuwari's Ghadanffar Al Cham (FR) (Dahess x Al Tarfah) to finish third. The Jassim Ghazali-trained colt was further 2¼ lengths behind under Marco Casamento. Karaamah, who was in 2nd position throughout finished 8th.
"Iloucio's performance and standard is superb", said the winning trainer Wasim Al Sahn after the race, "We brought him from France. He is a son of Josco Du Cayrou, and as such his pedigree is not very familiar in Qatar. We look forward and expect more from him on the big days. He has had two runs so far. While his first run was mainly to help him adapt to his new environment, he finished runner-up that day and today, on his second start in Qatar, he won. Through Iloucio and the few horses I train, I look forward to leave a strong mark on this racecourse this season."
Following the feature race, Hamd Bin Abdulrahman Al Attiyah, President of Qatar and Asian Equestrian Federations, QREC Vice Chairman, crowned the winners.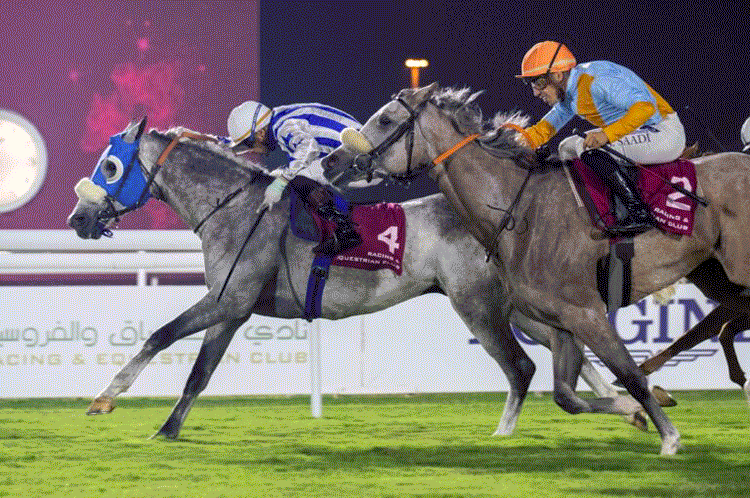 Asiak ridden by Alberto Sanna. Photo: Juhaim/QREC
H.E. Sheikha Iman Bint Mohammed Bin Khalifa Al Thani's ASIAK (FR) (Divamer x Agheilaya) won the Purebred Arabian Handicap (0-100), doubling his tally and giving trainer Rudy Nerbonne his 1st win on his 1st start as a trainer. He was ridden by Alberto Sanna to come out narrowly on top by a neck in the 1500m race for 4YOs. It was a double on the day and a 5th in the week for the Italian jockey. First Classs (USA) (Dahess x Toppoftheclass) ) and AJS Berline (QA) (AF AlBahar x Dormaline) took the minor honours in this order.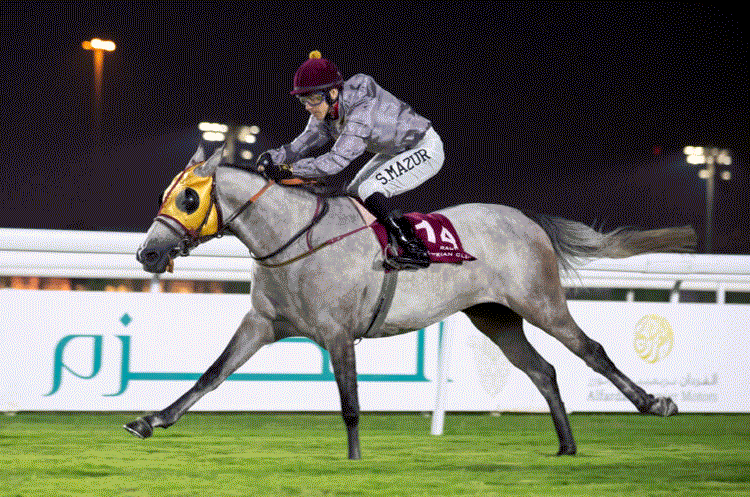 Osaila ridden by Szczepan Mazur. Photo: Juhaim/QREC
Al Shaqab Racing's homebred OSAILA (QA) (Amer x Redjila) on her 2nd outing began her career in Qatar with a bang winning the Local Purebred Arabian Maiden Plate. Szczepan Mazur guided the Eric Lemartinel -trained filly to take the 1500m run for 3YO by 3¾ lengths. Babel (QA) (AF AlBahar x Al Abadeel) and Hardan (QA) (Assy x Baldora De Brugere) finished second and third respectively.
Source: Qatar Racing & Equestrian Club. Photos: Juhaim/QREC