---
Trainer James Owen scored a one-two in the Emirates Breeders Handicap at Brighton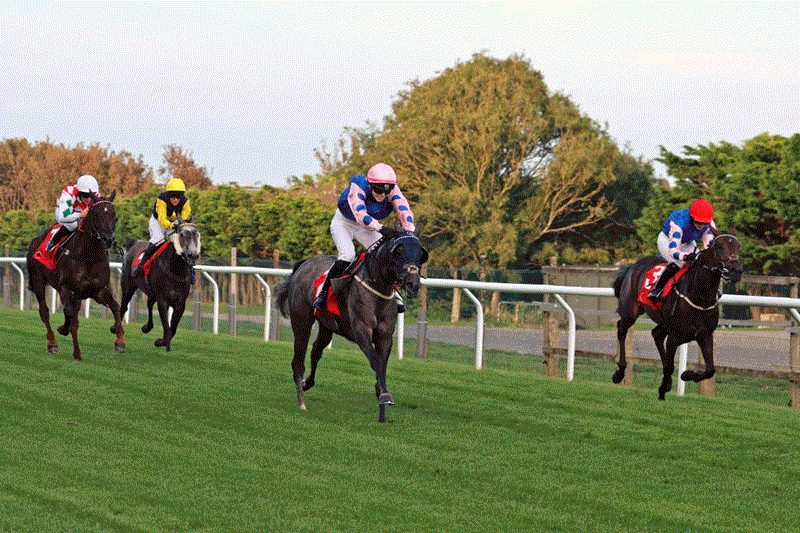 Victoria and Miss Rhea Betts win the Emirates Breeders (0-70) Handicap at Brighton
© Debbie Burt - Equine Creative Media
Newmarket based trainer James Owen scored a one-two with his homebred half-sisters, Mayfair and Victoria in the Emirates Breeders (0-70) Handicap at Brighton. Mayfair, partnered by Miss Rhea Betts, won by one and a half lengths from Victoria, ridden by Miss Teagan Padgett, both jockeys are amateurs who are attached to Owen's stable.
Betts, whose first winner came at the track last year, was delighted, saying, "It's lovely to have my family here, I think they're my good luck charms! Mayfair can normally travel quite well at the start and then we often seem to get outpaced but three out she was still traveling well and I thought I'd be able to stay with the others. Two out I decided to kick on and hope that she stays and she did, bless her! We've kept her a little bit fresh, and I think that's been the key to her. Quite a few people ride her at home, including me, but I love her."
Commenting by phone, Owen said, "That was lovely our first ever homebred winner and lovely for Rhea to get her first win of the season. She's been improving massively every ride this year, was very strong in the finish and looked good on a small horse, who isn't the easiest. Mayfair will probably go for the 0-75 at Lingfield next."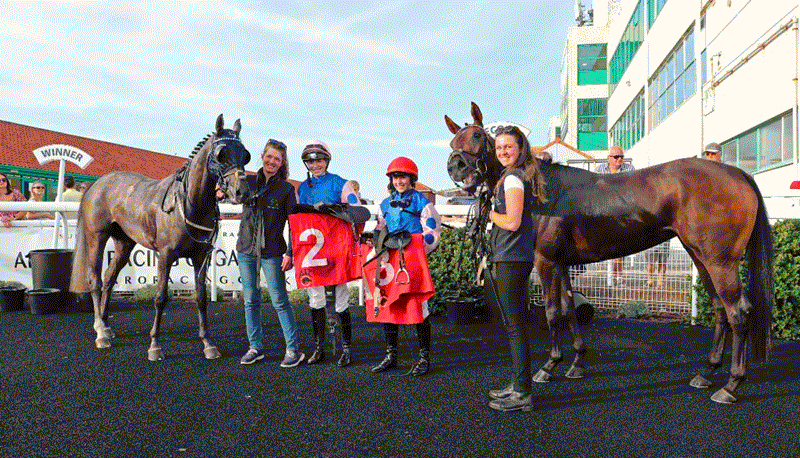 Mayfair and Miss Rhea Betts winners of the Emirates Breeders (0-70) Handicap at Brighton with Victoria and Miss Teagan Padgett who were second. © Debbie Burt - Equine Creative Media
Of the second he said, "I thought Victoria ran really well, but will be better next year when she strengthens up. We'll put her away for next season now."
Owen trained the dam, Dolfina D'Ibos to win three races during the 2017 season, where she was crowned leading Arabian and leading mare. Mayfair is her first foal, by Al Tair, whilst Victoria is from the first crop of RB Burn and is his first runner in Europe.
Genny Haynes, Arabian Racing Organisation Chief Executive Officer said, "ARO warmly congratulates James Owen and all the team at Green Ridge Stables, along with Rhea and Teagan. It's also particularly pleasing to see yet another of our owners securing their first homebred winner, and to have a one-two from the same mare is also an achievement of note.
"We thank the Emirates Breeders for their support of our grassroots competitors, who we are also assisting through our ARO breeders' scheme. The scheme gives a financial awards to UK registered ARO breeders whose horses finish in the first three places of all our races, so that will be an additional bonus for James."
Source: Arabian Racing Organisation