---
Clapton AJR achieves eighth victory and
1,500 meter record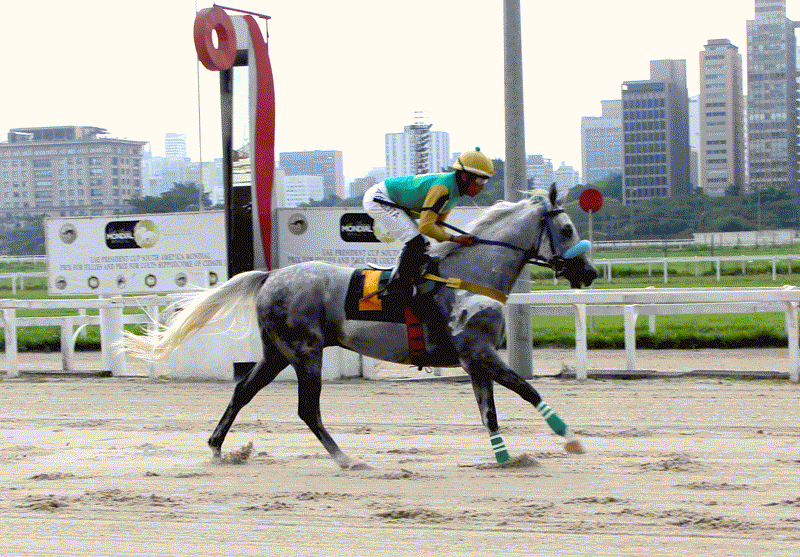 Under the impeccable command of jockey Antonio Mesquita, Clapton AJR wins from start to finish the UAE President Cup Series Grand Prix at the Cidade Jardim Racecourse and achieves his eighth victory and matches the talented Atentaddo VE.
In addition to the victory, Clapton AJR set a new record in the 1,500-meter dirt race for males and females by completing the course in 1:44:781. The previous record of 1:45:489 was held by his half-brother VG Al Mared in the April 15 race.
Bred and owned by Almir José Ribeiro, trained by Oberdan S. Pereira and once again ridden by Antonio Mesquita, the 5-year-old gray Clapton AJR (Mared Al Sahra x *Cowboys Gal by Wiking) now joins Atentaddo VE (Wonderful Boy x Dahaby NA by *Padrons Image) with a record of eight wins.
The duo Mesquita and Clapton AJR crossed in first place with an 11 ¾ lengths advantage over RG El Bak (RG Karat x *Endora by Wojslaw), under the mount of Idevaldo Silva, who competed for second place with Normandia Rach (*Uzbek Du Lion x Novella Rach by Voltaire Rach) under the command of Ruberlei Viana.
In this race, the mare Normandia Rach broke the female record in the 1,500 meters with a time of 1:46:996, which was 1:50:191 held by Osiris Rach since November 20, 2021. Both are bred and owned by Rach Stud and trained by Lucas Quintana.
"We are excited about this great display from Clapton AJR. As breeder and owner, I brought the family to Cidade Jardim to see 'our child' shine once again, to the pride of Márcia, Marina and Maria Eduarda. We are grateful for the excellent work of our team led by trainer Oberdan Pereira, with the full dedication of Zé Gato and who, under the command of the experienced Antonio Mesquita, shone once again", declared Almir José Ribeiro.
Trainer Oberdan S. Pereira said after the race. "This victory has a special meaning for everyone on the team. Clapton AJR competed in ten races, was champion in eight, runner-up in two, losing only to his half-brother VG Raj Al Mared. I can say with certainty that both are the best Arabian animals in Latin America. We have three more races until the end of the year and we are looking for these victories. I was confident that Mesquita, who knows the horse very well, would seek this victory again."
"Clapton AJR is in excellent form. Right at the start we took the lead and I managed, but always looking at RG El Bak who in the last race attacked us a lot. In the last 500 meters I was watching all the time to make sure I wouldn't be attacked again and as Clapton showed more and more desire to run, we won calmly and with more than 11 lengths in front", declared jockey Mesquita after the race.
Almir José Ribeiro, Racing Director of Arabian Horse Breeders Brazilian Association (ABCCA) said: "I want to thank ABCCA and the Jockey Club of São Paulo (JCSP) for believing in Arabian racing, and especially His Highness Sh Mansoor Bin Zayed Al Nahyan, Vice President and Deputy Prime Minister of the UAE, Minister of the Presidential Court and Chairman of the Emirates Racing Authority; and HE Faisal Al Rahmani, President of the International Federation of Arabian Horse Racing (IFAHR) and General Director of the UAE President Cup for their partnership and trust in this project that has already completed four years of success in Brazil and which is truly a project of promotion and encouragement to the development and consolidation of Arabian horse racing in Brazil and which from 2024 onwards will be consolidated in South America through the holding of Arabian horse races in Argentina, Chile and Uruguay."
"Brazil is the great protagonist of Arabian Horse racing in South America because for more than a decade we have been building another chapter in this story. With each new race and each new record that is set, the success continues and our times are equal to those of the best races in the world."
Ribeiro added: "Once again we had an excellent race in Cidade Jardim with our best Arabian horses that shined and enchanted all those who watched another fantastic performance by Clapton AJR who is equal to the icon of Arabian horse racing in Brazil, Atentaddo VE, who made history at JCSP and is still remembered today for his unforgettable races."
In addition to the prizes during the races, all horses participating in the 2023 Race Calendar also compete in the 2023 Arabian Cup Race category promoted by the Arabian Horse Breeders Brazilian Association.
The Grande Prêmio UAE President Cup Series is organized by Arabian Horse Breeders Brazilian Association in partnership with Jockey Club of São Paulo.
1 CLAPTON AJR (Mared Al Sahra x *Cowboys Gal by Wiking)
T: Antonio Mesquita
T: Oberdan S. Pereira
B/O: Almir José Ribeiro  1 Almir José Ribeiro
2 RG EL BAK (RG Karat x *Endora by Wojslaw)
J: Idevaldo Silva
T: Estanislau Petrochinski
B/O: Claudio Roberto Guimarães
3 NORMANDIA RACH (*Uzbek Du Lion x Novella Rach by Voltaire Rach)
J: Ruberlei Viana
T: Lucas Quintana
O: Agropecuária Ilha da Chapada Ltda.
B: Rach Stud Agropecuária Ltda.
4 GWAN AJR (All Pol Rach x Greece AJR by Second Chall)
J: Osmar Pereira Filho
J: Oberdan S. Pereira
B/O: Almir José Ribeiro