---
Al Doha gains her Group 1 PA in the UAE President Cup UK Arabian Derby at Doncaster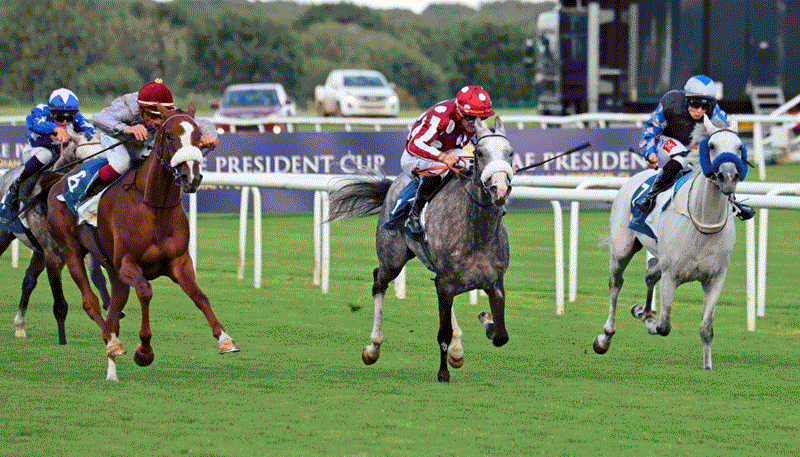 Al Doha and Olivier Peslier win the UAE President Cup - UK Arabian Derby (Gr1PA © Debbie Burt
France may have a new flying filly as the four-year-old Al Doha gained her first Group 1PA win in the UAE President Cup – UK Arabian Derby at Doncaster on August 19. Winning by just a neck from her stable mate, Al Shaqab's Ghadah, it gave her owner HH Sheikh Abdullah bin Khalifa Al Thani, her trainer Thomas Fourcy and jockey Olivier Peslier as second consecutive win in the £80,000 mile and a quarter race, which they won with Abbes in 2021. A further length and a quarter behind in third was Athbah Racing's Thakeera Al Shahania, ridden by Joanna Mason who had been three-times leading Arabian lady jockey when she was an amateur rider.
Speaking after the race, Fourcy was delighted with his filly, "Al Doha has been in very good form, she's very easy to ride and has shown great ability on the racetrack before when finishing second to Al Ghadeer (in the French Arabian Derby), and she deserved to win her own Group 1PA today. She will go to the Qatar Arabian Trophy des Juments on Arc weekend."
Peslier commented, "When Al Doha finished second at Chantilly it was a great run, the winner was very strong, but my filly is very good. First time out she did well when not fully fit and then won very well next time. The Derby in France is very hard against the colts; she fought very well, so I came here to ride her today knowing she had a good chance. She has progressed well and is still improving. Thomas is a great trainer of Arabians, of thoroughbreds, both on the flat and over jumps and he was a great jockey before that. I hope he has many more good successes and I'm very happy for the team."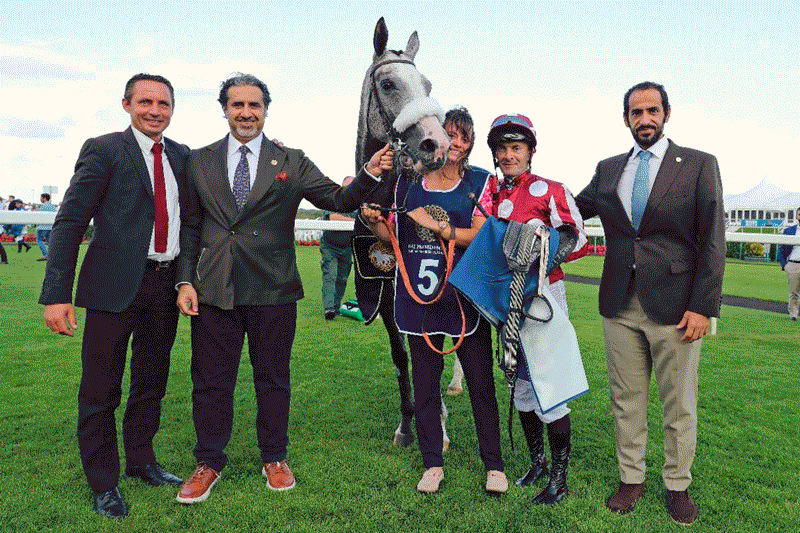 Thomas Fourcy, Faisal Al Rahmani, Al Doha, Olivier Peslier and Saeed Al Muhairi winners of the UAE President Cup - UK Arabian Derby (Gr1PA) at Doncaster © Debbie Burt
HE Faisal Al Rahmani, Event Manager for the UAE President Cup who was on course to welcome the winners and present the trophies commented, "We are delighted for the winners of the race today. I'm very pleased with the way the series is going in its thirtieth year, we started with just six races and now there are 15 around the world, we hope maybe next year we will increase that number too."
"What I am most proud of is the stability it has provided. We are delighted to come back to Doncaster again and even though we had to hold the race earlier this year, we will look at the programme again and see where it will fit best next season."
Genny Haynes, ARO Chief Executive Officer said, "We warmly congratulate Al Doha and her connections on winning today. It is also notable that the first three homes were all fillies, which is a first for this race. We also congratulate Joanna Mason placing third in her first ever ride in the race, as she did so well riding with us when she was an amateur."
"This race always produced a top quality horse who invariably goes on to win again and again at the highest level and we look forward to following Al Doha's career in the future. We thank the UAE President Cup series for the support of our most valuable race for four-year-olds and we thank the team at Doncaster for their assistance with our overseas runners."
Source and photos: Debbie Burt